Sanders' Wall Street plan is 'incoherent' says Barney Frank
Former Massachusetts RepresentativeBarney Frank was in Providence Monday morning campaigning for Hillary Clinton in the form of an interview with RI Treasurer Seth Magaziner. The Congressperson was the chairman of the House Financial Services Committee from 2007-2011 and the Frank half of the Dodd-Frank Act, a major reform of the financial industry signed into law under Obama.
Frank says that the United States is trapped in a vicious cycle: People have lost confidence in a government that responds to their needs, so they elect anti-government candidates who produce a government that is even worse than before. Frank believes that the only way out of this is to elect Hillary Clinton as president.
Bernie Sanders, says Frank, is being too critical of anything that falls short of his own lofty ideals. Frank thinks this is a mistake and strongly disagrees with this way of thinking.
"Almost every representative committed to progressive change is for Hillary Clinton," says Frank, including the entire congressional LGBT caucus and every member of the Black caucus, save one. This isn't because they are part of the "establishment" says Frank, but because they are committed to progressive change.
"If you tell people it's either revolution or nothing worth fighting for," says Frank, "you open up the not-voting behavior."
As for taking money from Wall Street, Franks says that Sander's idea that politicians taking money from businesses they want to change cannot be counted on "goes against every person I've ever served with."
Frank then went into his experiences passing Dodd-Frank, which reversed 12 years of a Republican-controlled Congress loosening the regulations that controlled Wall Street. He noted Rhode Island Senator Jack Reed's contributions to that process.
Sander's promise to break up the big banks makes no sense to Frank. The problem "isn't that institutions are too big, it's that they had more debt than they could handle."
Frank says that he helped pass legislation to prevent too much indebtedness. "AIG couldn't happen today," he says. He helped to outlaw sub-prime loans and increased the companies on-hand capitol.
"General Electric got out of the financial business because of these laws," says Frank.
Under Frank's legislation, regulators can look at a company's holdings and in the event that it looks dangerous, can order divestment. Clinton's plan to regulate Wall St would lower the bar for divestment, giving her enhanced authority to order divestment.
In contrast, says Frank, Sanders isn't coherent on this issue. "How can you say something is too big if you don't know what size it should be?" asks Frank.
"Hillary," says Frank, "understands how it all works."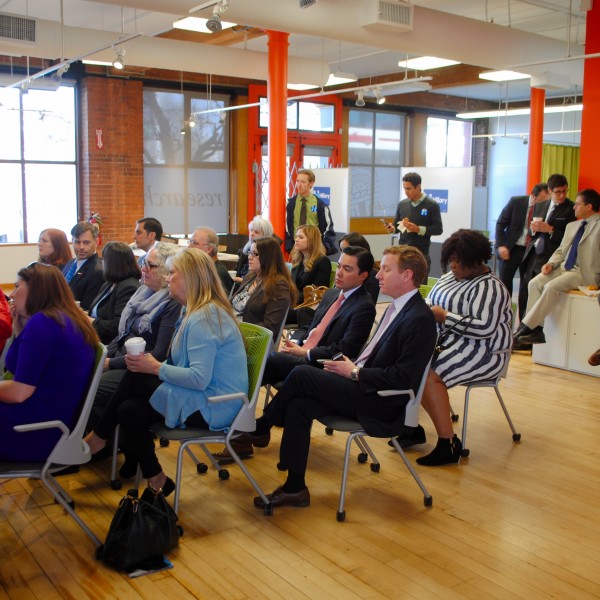 Clinton's tax policy was also touched upon. As President she wants to tax high frequency stock trades and tax hedge funds as income. Frank objects to Sander's "McCarthy-ite suggestion that she's soft on these issues because of the money she accepts."
Clinton will increase taxes on people making more than $1 million and especially those who make more than $5 million, says Frank.
When asked about health care, Frank was not in favor of introducing single-payer system, at least not quickly. "People need to be shown how this can be done," said Frank. "I think Sanders will be a disaster [on health care]," says Frank, "People are not ready to have a tax increase to pay for universal health care."
Clinton will crack down on big pharma pricing, prevent tax dodging of companies incorporating overseas and expand health care, says Frank.
Frank, who was among the first openly gay members of Congress, ended with some words on LGBT rights. "Though Sanders has always voted the right way on LGBT issues there is near unanimous support in the LGBT community for Hillary," he said.
Clinton's Supreme Court picks, Frank said, will help reverse the Hobby Lobby decision and uphold legislation, like the kind being worked on by RI Representative David Cicilline, to prevent private action discrimination against LGBT people.
One final note: Frank did say that if Sanders wins the nomination, "Of course I'll campaign for him."